"I hope you didn't think I was stupid for writing to you, but I had to do something," the lady said.
People who are lonely in old age are all too common. Their children start families of their own and move on, and many older people find themselves alone with no one by their side.
Wanda is a 90-year-old lady from San Francisco, California who has longed for companionship for so long. Eventually, she decided to do something about it, gathered her courage, and left a heartfelt note on the front door of one of her neighbors.
When Marleen Brooks saw the handwritten note, it made her "heart sad", but at the same time, she was happy to make a new friend.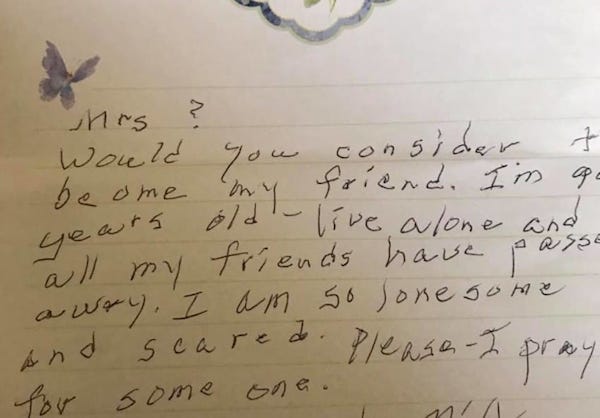 The note read: Would you consider becoming my friend. I am 90 years old — I live alone. All my friends are dead. I am so alone and scared. Please, I'm praying for someone.
Marleen visited Wanda the same day. She showed up, brought cupcakes and had a good time with her elderly neighbor.
The visit was great and Marleen decided to share the story of this newfound friendship with Frank Somerville of KTVU News, as she knew there were others like Wanda who felt lonely and needed companionship. She thought it would inspire others to join their elderly neighbors and be there for them.
"Franc!
She's such a sweet woman!
And she was over the moon when we arrived.
Wanda said:
"I hope you didn't think I was stupid for writing to you, but I had to do something.
Thank you very much for coming.
I've lived here for 50 years and I don't know any of my neighbors.
Wanda has 3 sons, one of whom died last year of cancer.
The other two live far away.
She is 90 years old and is on oxygen and suffers from congestive heart failure, osteoporosis, among other conditions.
We brought him cupcakes (we didn't have enough time at work to make the banana bread).
I also made sure she knew she could call us anytime and that I would be back to hang out with her!
I'm sure Wanda and I will have a great time.
PUBLISHED BY FRANK SOMERVILLE KTVU ON THURSDAY APRIL 27, 2017
The story touched the hearts of thousands of people. "Love this story," Frank wrote in response. "And I'm so happy for Wanda. But as I said in my first post, there are so many more who feel lonely like Wanda. I might ask you to consider knocking on their door and saying hello. I know it would mean the world to them. And who knows, maybe you'll make a new friend.
I believe we should all act like Marleen did and be there for each other.