Not many people are able to say that they've met one of their idols. Some of us get that golden ticket backstage, or manage to work through the crowd for a handshake and a picture; these are truly special moments to fans. One fan, however, managed to do what countless fans dream of: share a stage with Michael Bublé in a packed arena.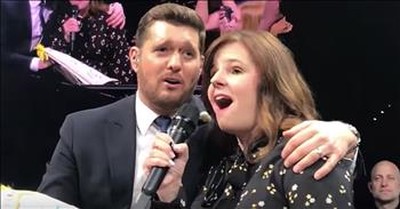 That's exactly what sixth-grade teacher Mrs. Diana Fairbanks did during Michael Bublé's arena show at Oakland's Oracle Arena in 2019. During this touching moment, Fairbanks seems unphased by the crowds surrounding her as Bublé accepts her request for a duet. They then go on to sing Disney's "A Whole New World" together in a gorgeous melodic duet.
At first, Bublé seems to think that Fairbanks – who is holding a sign in the air – is simply trying to get his attention and show her affection (as most fans would certainly do if they were that close to Bublé). He was then astounded to discover the other side of the sign, requesting an on-stage duet with the legendary Canadian singer. Little did the audience know that they were about to witness a truly stunning moment.
The crowd roared with praise as he accepted her offer, and Fairbanks demonstrated her angelic voice from the offset. Despite his legendary status, Bublé shows us in this clip that he's just like everybody else at his core as he stumbles on his words during the duet. This doesn't stop him from providing excellent harmonic support to Fairbanks, who managed to pitch match Bublé by the end of the song. They even gaze into each other's eyes for reassurance as they discover the right pitch together.
Michael Bublé is known the world over as an American vocal icon. His extensive original discography is impressive enough on its own, but one aspect of Bublé's magic is his ability to revive overlooked songs of the past and put his own spin on them. One of the most popular covers that he brought back to life is Nina Simone's classic "Feeling Good", which 15-year-old fan Sam Hollyman got the chance to perform with Bublé during his show at the Birmingham National Indoor Arena.